Si estos días has notado el fuerte viento que ha azotado a buena parte de la península, tu bolsillo también lo notará el segundo trimestre gracias a la generación extra de energía eólica, que hasta el días 29 de enero alcanzó los 6.200 GWh equivalentes a 26 millones de euros. Una cifra que, tal como ha explicado hoy la Asociación Empresarial Eólica, contribuirá a rebajar la escala de precios de la factura de la luz.
Concretamente, tal como ha explicado el colectivo, el precio medio mensual del mercado mayorista eléctrico se ha situado en 33,6 €/MWh, frente a los 63,64 €/MWh de diciembre, lo que supone una reducción del 47%. Esto ha permitido la acumulación de 25,9 millones de euros que podría proteger a los consumidores domésticos de subidas en su recibo del segundo trimestre.
Cuando se generan fuertes rachas de viento, estas no afectan directamente a la factura de los consumidores domésticos. Lo que sucede realmente es que, al crecer la generación de energía eólica de forma puntual, aumenta la oferta y por tanto baja el precio del mercado mayorista (pool), que compone el 20% de la factura de la luz.
Energía eólica al rescate del consumidor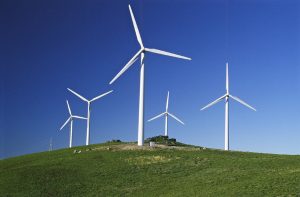 Después de que se anulase la subasta eléctrica el mes pasado, el Gobierno fijó el precio del Producto Base para el último trimestre en 48,48 €/MWh. Este se utiliza para fijar la antigua Tarifa de Último Recurso y el actual Precio para Pequeños, y que habría supuesto un total de 84 millones de euros en el mercado de compra de electricidad en el mercado.
Teniendo en cuenta el exceso de energía eólica que no se había previsto, las tecnologías energéticas más caras no entraron en el juego, lo que ha supuesto finalmente ese ahorro de 25,9 millones de euros. De hecho, este colchón millonario impediría que los precios volviesen a subir, incluso, si se produjese menos energía eólica durante febrero y marzo de 2014. Esta es una de las grandes ventajas de las energías renovables como la energía eólica, que además de contribuir a la sostenibilidad del medioambiente, también protegen al consumidor lidiando por él en el mercado.
Por esta razón, la asociación critica la próxima Reforma Energética, ya que la energía eólica, que es la primera fuente de energía eléctrica de España, se vería seriamente perjudicada, a pesar de reducir el precio del mercado, ser un seguro para el consumidor, evitar el encarecimiento de los combustibles fósiles y generar todo un mercado tecnológico alrededor suyo.
Y es que, según el informe de la OCDE Inventory of Estimated Budgetary Support and Tax Expenditures for Fossil Fuels, entre 2005 y 2011 se concedieron subsidios a los productos petrolíferos (procedentes de una fuente de energía importada y contaminante) por valor de 9.719 millones de euros. Sin embargo, según los datos de la Comisión Nacional de los Mercados y la Competencia en ese mismo periodo, los incentivos a la energía eólica (autóctona, gratis y limpia) ascendieron a 8.931 millones, un 8% menos.
---
Imagen | Mafalda Moreira Santos
Fuente | Somos eólicos